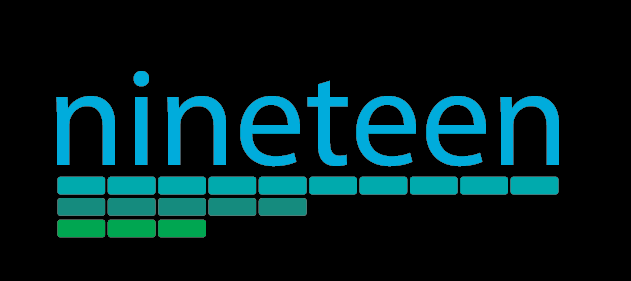 Problem summary:
Many of the same advances that have brought about the "big data" revolution
in quantitative data have also caused dramatic growth in the availability of
qualitative data. 
Qualitative data does not easily lend itself to the same sorts of automated summary and abstraction tools that work with quantitative data. This means that many researchers are drowning in qualitative data without advanced analytic tools.
Role:
Designer and developer
Collaborator and advisor:
Prof. Kim Erwin
Key insights:
1. Data can be understood in a rapid, precognitive manner when presented visually.
2. The ability to explore data in context and in a unified environment is critical to the sense-making process.
3. Treating data analysis as a prototyping process guides the development of a new class of tools.
Design principles:
1. Allow exploration of data at multiple levels of abstraction in a seamless way.
2. Help enable pattern spotting using visuospatial processing abilities.
3. 
Allow analysis to be treated more like prototyping – produced quickly, at little cost, evaluated and refined (or 
abandoned
 if not useful).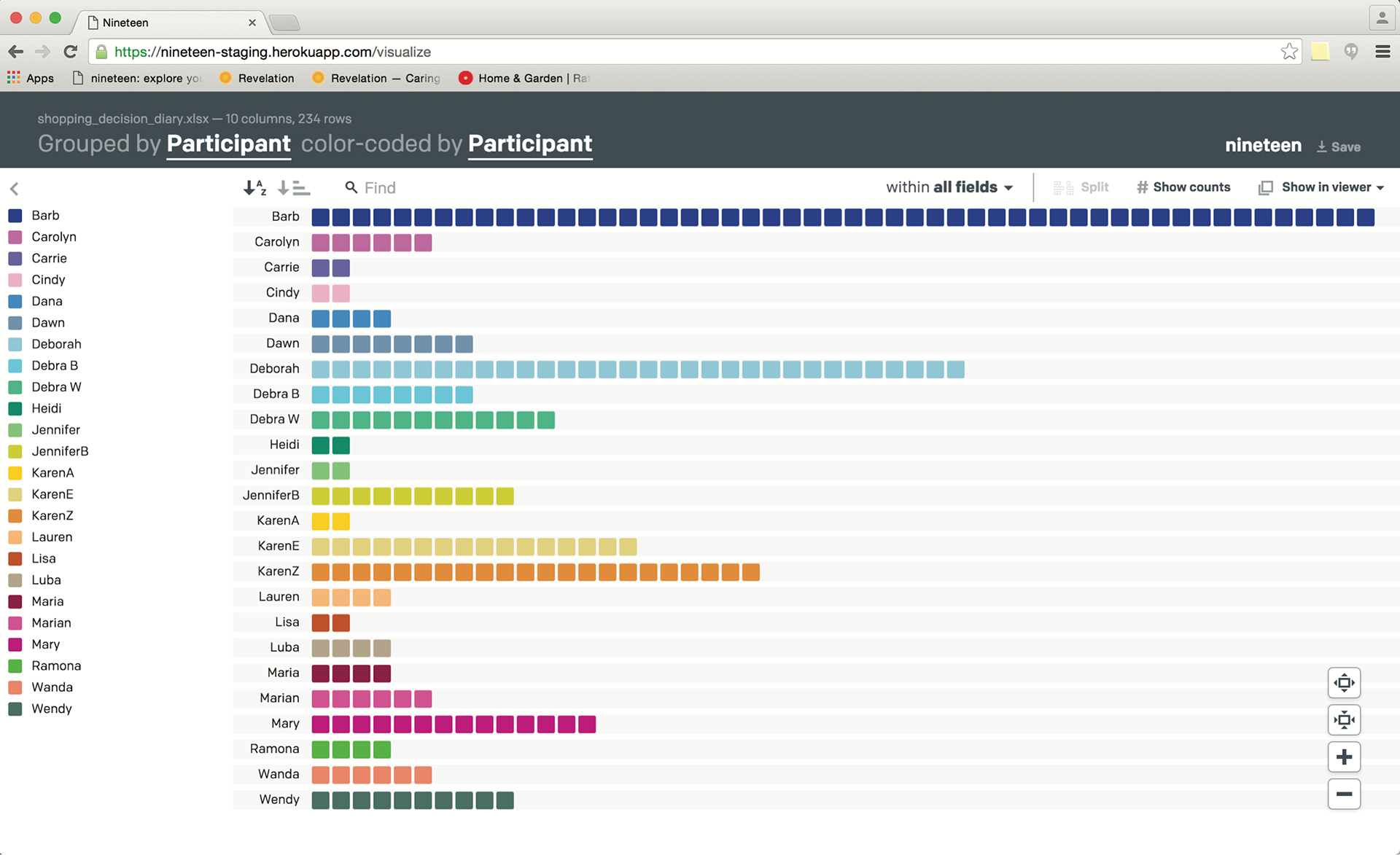 Current status:
As of mid-2021, Nineteen was taken offline temporarily due to hosting constraints – as a freely available, no-cost tool, it served the qualitative research community for almost a decade. We are indebted to the avid users and the Knight Foundation and hope to bring the tool back online in 2022.
Design concept:
Nineteen is a freely available tool that allows rapid visualization and exploration of qualitative data at multiple levels of abstraction, simultaneously.  Designed for use early in analysis, nineteen fosters hypothesis testing, aiming to prompt as many questions as it answers.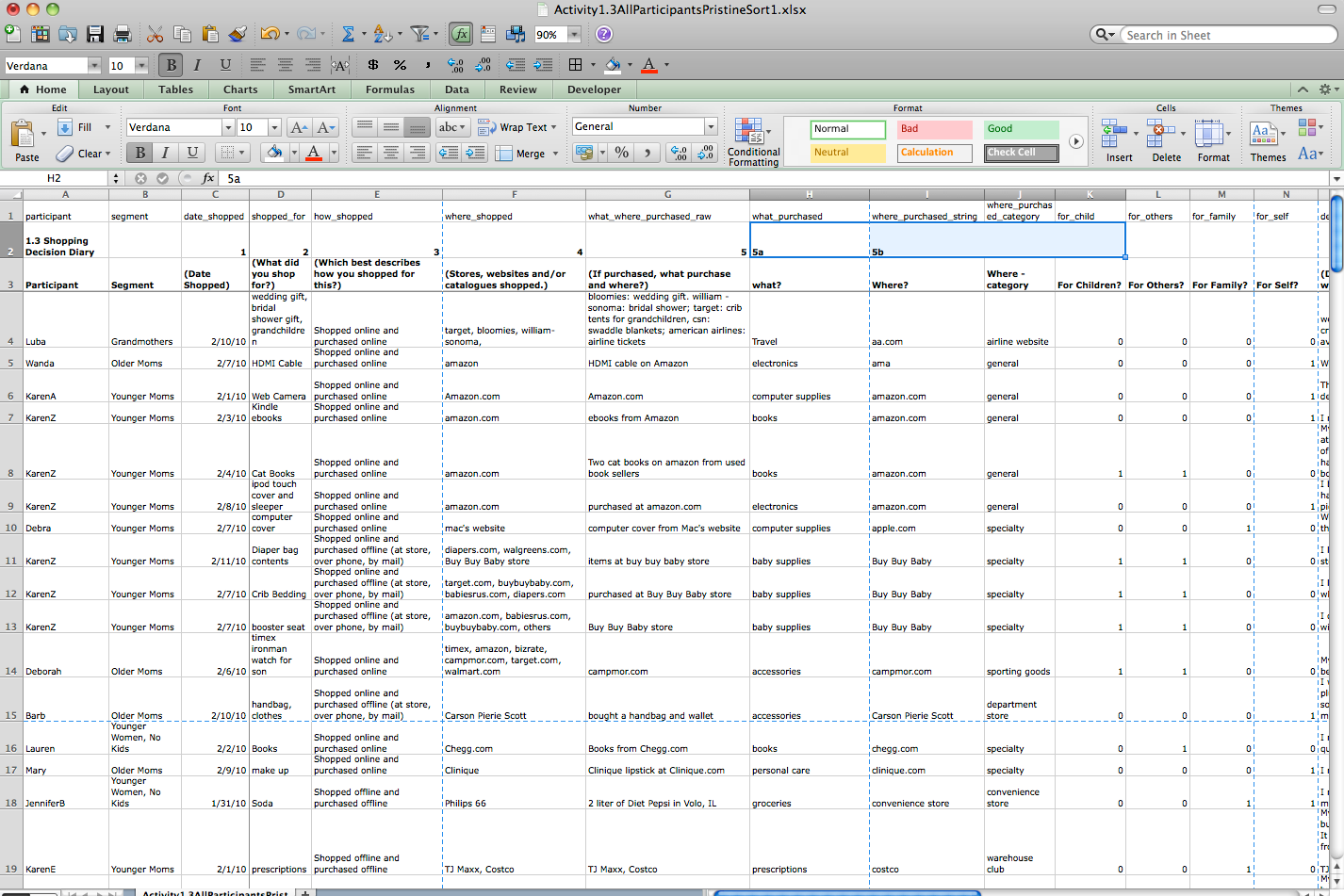 A lot of research data ends up in excel files, looking much like the one above – an undifferentiated sea of gray. While excel lends itself well to the bite-sized chunks of text and links to images that online survey and "net-ethnography" tools produce, it fails to make it easy to browse, search or spot patterns in one's data.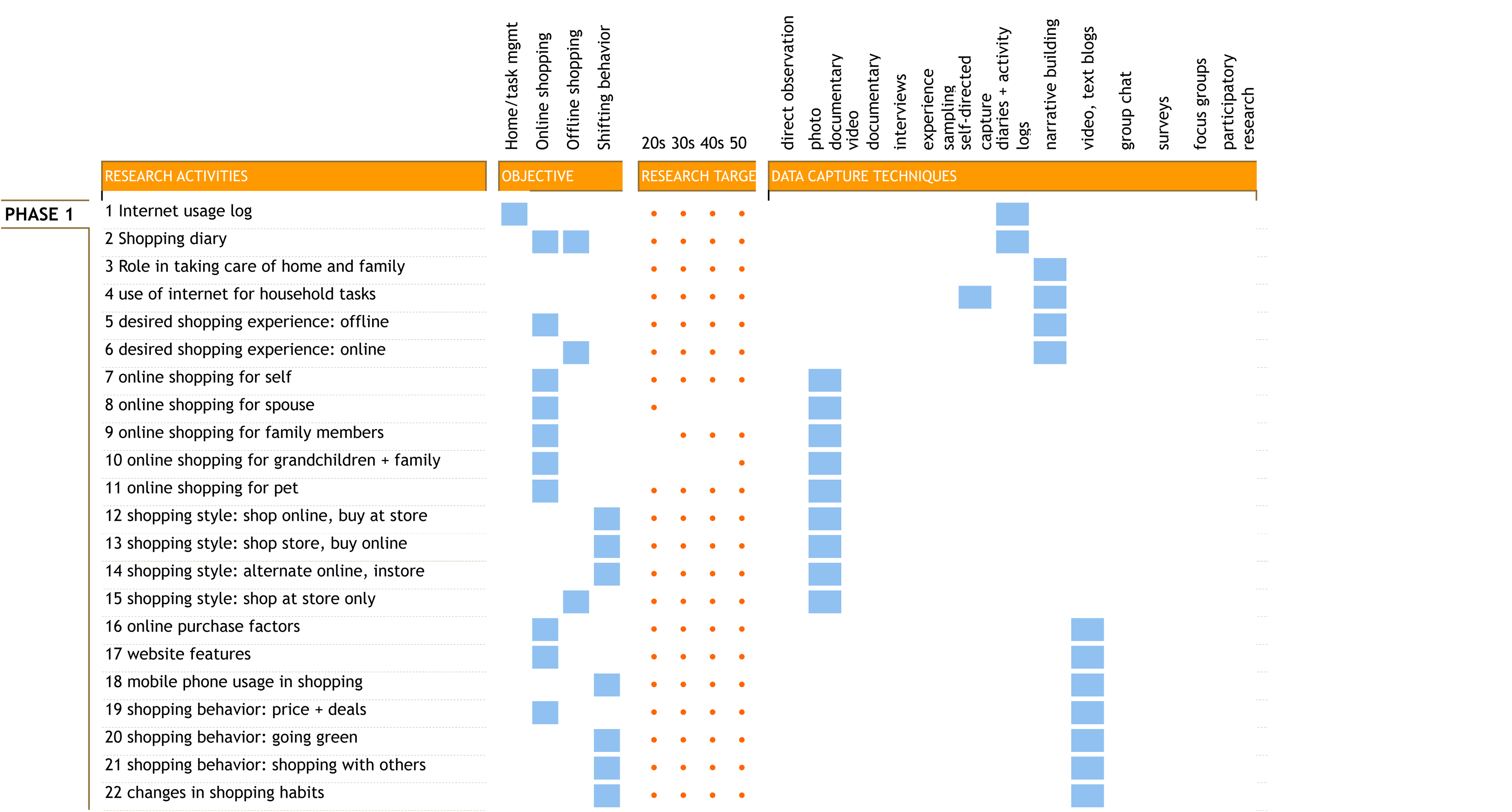 If one works for a while, that data can be converted into visualizations like the one above. However, often that work has a significant amount of manual labor included and it usually makes it difficult to see the data in the raw, original context. This makes it all but impossible to re-examine, recode or ask new questions of one's data.
Instead, what if we could produce visualizations that were based directly on the .xlsx file and build them almost instantaneously? Further, what if we were able to link that back to the raw text and image data?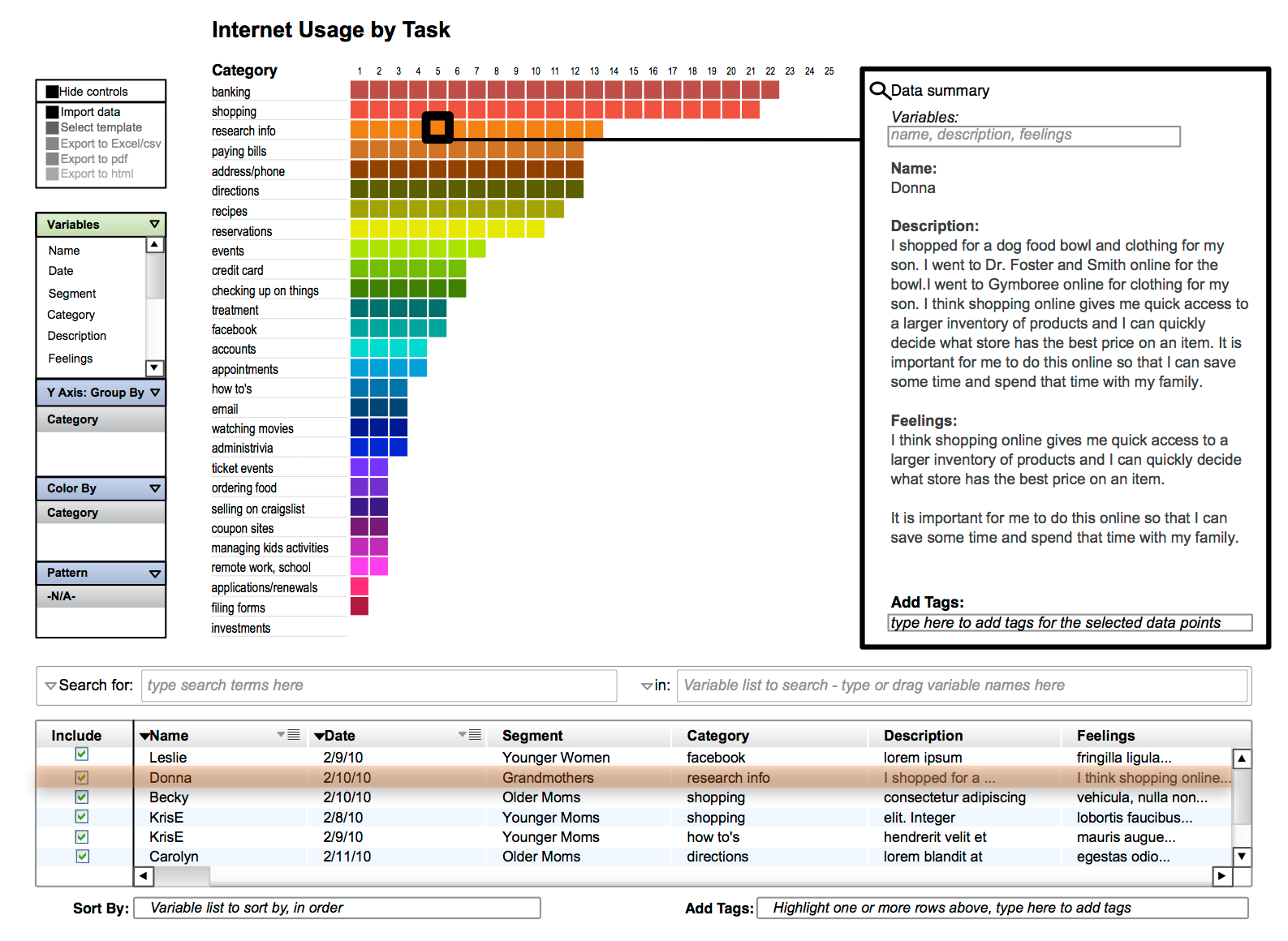 The product of our first iteration was a clickable prototype that showed the data at three levels of abstraction with the most concrete, spreadsheet view at the bottom, the most abstracted visualization in the center and a abstracted, detailed view on the right.
Quick usability testing showed that the spreadsheet view added little value and so it was eliminated in subsequent revisions. After a series of additional prototypes, we have released a working development version at
http://data.pollari.org
, with screenshots shown, below:
First publicly available tool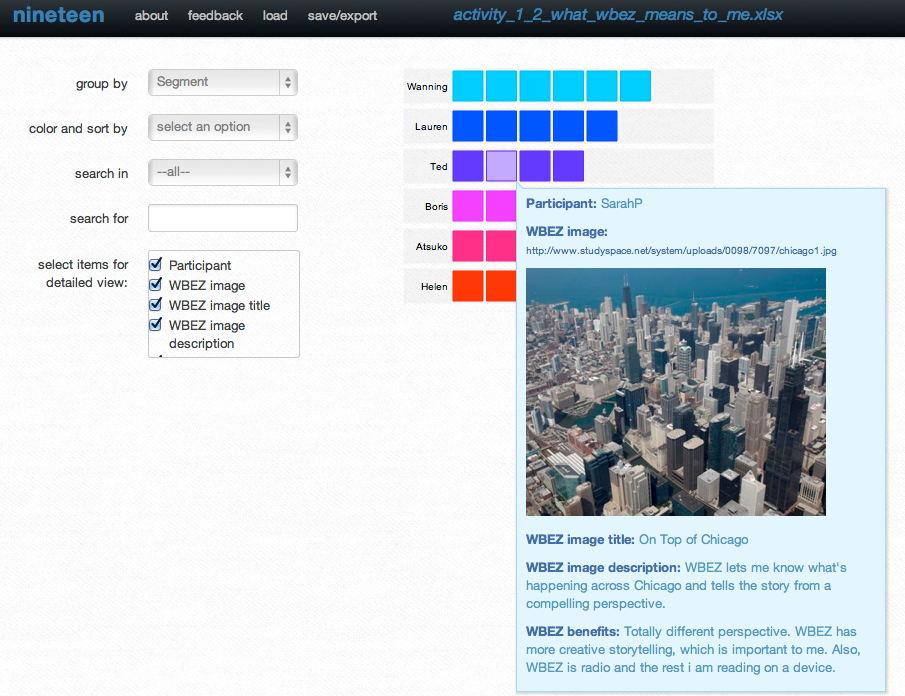 2015 Knight Foundation Prototype Fund Sponsored Updates
Complete rewrite and updated UI with consumer-research driven feature revisions:
– Improved UI, including enhanced grouping/visual splitting and searching
– text analysis: high frequency word search

– downloadable Nineteen (HTML version) for saving/sharing